Brenton Wood and Friends Concert at the Microsoft Theater in LA
Are you ready for one of the most eclectic concerts you'll ever see? Iconic R&B performer Brenton Wood is bringing some of his friends to the stage at The Microsoft Theater in LA for a once-in-a-lifetime session of rhythm, blues, funk, freestyle, and soul. And if that sounds like an odd combination, you should see the lineup. It features some of the best-selling artist from the last 50 years, artists whose songs have been sampled, remixed, covered, and used in the most memorable TV and movies of the past 30 years.
Brenton Wood—Soul Musician Extraordinaire
This musical monster of a man has been writing and performing chart-topping songs like The Oogum Boogum Song and Gimme Little Sign which have become such an iconic part of the American Songbook that they've been sampled, remixed, covered for decades. Chances are that if you don't even know the man's name you've heard his songs.
They've adapted by Danielle Brisebois, Ronnie Jones, Ricky Nelson, and Hepcat. His music has also been featured in Hollywood hits like Beverly Hills 90210, The Shack, Shopgirl, Eastbound and Down, and more.
And for one night he's bringing his own personal pick of the best of the best to the stage in LA for you to see live and in person.
The Brenton Wood and Friends Concert Lineup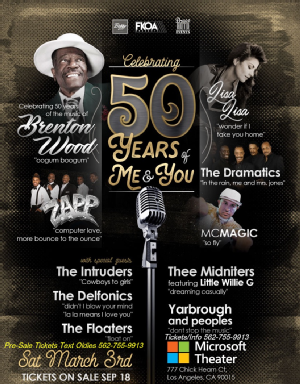 If you've got an eclectic musical ear with a penchant for classic R&B, Soul, and "urban" music from the 1960's, 70's or 80's you'll want to snag tickets for the Brenton Wood and Friends Concert at The Microsoft Theater in LA as soon as possible. It's your chance to see an amazing lineup of music makers who have literally defined our modern music scene through their dedication, passion, and innovation over the last 50 years. Featured stars include:
Zapp (Zapp Band)
This Electro Funk band has been pushing boundaries (and blowing minds) for decades with hits like "More Bounce to the Ounce" and "Living for the City" since 1980.
Lisa Lisa
One of the first Freestyle music groups to emerge from New York's burgeoning music scene in the 1980s. Lisa Lisa is still as relevant today as back in the day with hit studio albums including 2009's Life N' Love.
MC Magic
One of the first Hispanic rappers to perform in both English and Spanish, MC Magic has been going strong since 1995's "Don't Worry" dropped on Nastyboy Records.
Other Special Guests Brenton Wood will be bringing with him to the Microsoft Theater in LA include:
The Delfonics (The R&B and soul group's hit song Ready or Not Here I Come launched them into stardom and has since been sampled and covered by dozens of musical artists including The Fugees)
The Intruders
The Floaters
Thee Midniters (featuring Willie G)
Yarbrough and Peoples
Where and When to See this Amazing Musical Lineup
The Microsoft Theater in Los Angeles will be hosting Brenton Wood and Friends on March 3rd, 2018. The Doors open at 7:00 PM and the first act takes the stage at 8:00 PM.
Get Tickets to Brenton Wood and Friends at The Microsoft Theater in LA
You can get tickets to the Brenton Wood and Friends Concert online at TicketStripe. Special pricing and packages (including VIP tickets) are available. But don't wait! With this many R&B, Soul, Funk, and freestyle musical icons on stage at one time tickets will sell fast. Get yours today.